| | |
| --- | --- |
| HIS HD 6670, 6570, and 6450 Graphics Cards Unleashed | |
Thursday, 21 April 2011
HIS HD 6670, 6570, and 6450 Graphics Cards Unleashed
Offering You Versatile Computing Solution with Advanced Video and Display Technologies
Hightech Information System (HIS) introduces its HIS 6670 Fan, 6570 Silence & 6450 Silence 1GB graphics cards, delivering a premium and reliable computing experience to our digital lifestyle and business PC users. The new models also make multimedia tasks easier with features like AMD App Acceleration, AMD HD3D and DirectX 11 technologies. What's more? HIS 6670 Fan 1GB GDDR5 comes with Display Port output that supports AMD Eyefinity technology and thus creates the ultimate desktop workspace with 4 monitor displays.
The Three Pillars
AMD App Acceleration Technology- Use the power of your GPU improve the image quality of your video and speed up your everyday applications

AMD HD3D Technology - Enjoy an enhanced visual experience on Stereo 3D-capable desktops and notebooks powered by AMD HD3D Technology

DirectX 11 Evolved Technology - Experience new levels of detail and realism using AMD Radeon 6000 Graphics with DirectX 11 technology

HIS 6670 Fan 1GB GDDR5 PCI-E DP/DVI/HDMI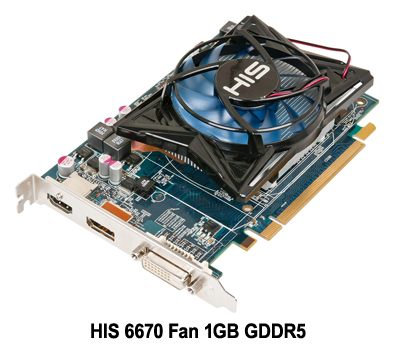 http://www.hisdigital.com/un/product2-616.shtml
HIS 6570 Silence 1GB DDR3 PCI-E DVI/HDMI/ VGA
http://www.hisdigital.com/un/product2-617.shtml
HIS 6450 Silence 1GB DDR3 PCI-E DVI/HDMI/VGA
http://www.hisdigital.com/un/product2-615.shtml
Where to buy:
http://www.hisdigital.com/un/buy.shtml
Join the Kingdom of Gamer!
http://benchmarkreviews.com/member
HIS is now on Facebook!
http://www.facebook.com/pages/Hong-Kong/HIS-Faster-Cooler-Quieter/1540001487778777
Follow HIS on Twitter!
http://twitter.com/HISdigital
About HIS
Founded in Hong Kong in 1987, Hightech Information System Ltd. is an internationally acclaimed graphics cards manufacturer. Commitment to Excellence is the bedrock of the company. HIS is proud to be ATI's Authorized 1st Tier AIB Partner, Certified Partner and Launching Partner. Up to the third quarter of 2010, HIS has won over 1,100 awards with ATI graphic solutions from major media all around the world. The performance-leading and award-winning models range from entry level to the most professional level products. HIS have proven to offer far superior, cooler, quieter and faster graphic cards than any other leading rivals. For further information, please visit the web site at http://www.hisdigital.com.
Related Articles: