| | |
| --- | --- |
| TRENDnet TN-200 NAS Media Server Unveiled | |
Thursday, 06 June 2013
TRENDnet TN-200 NAS Media Server Unveiled
TRENDnet, a best-in-class wired and wireless networking hardware brand, today is excited to announce the 2-Bay NAS Media Server Enclosure, model TN-200- a powerful entertainment and storage hub of your digital network.
DLNA certified Smart TVs, media players, and game consoles can automatically find and play multiple HD videos and music from the TN-200 simultaneously. An iTunes® server provides the ability to share a massive iTunes library across your network.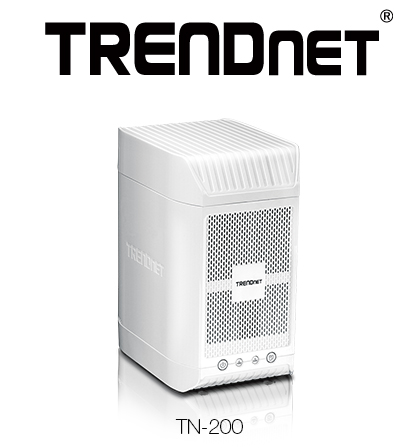 The TN-200 accepts two 3.5" SATA hard drives, sold separately, for a total storage capacity of up to 8 Terabytes. Additional storage can be added using a convenient USB share port. A Gigabit Ethernet port maintains a high speed connection to the network. The intuitive setup wizards get the TN-200 up and running quickly.
"The TN-200 has an intuitive interface which novice users can easily navigate," said Sonny Su, technology director for TRENDnet. "It's packed full of features to support efficient content storage and sharing."
TN-200 Features:
DNLA Certified
iTunes® Server: share a massive iTunes library across your network
Backup Center: ensures zero data loss if one drive crashes
Download Center: schedule downloads from popular sites
One Touch USB Button: automatically backs up content from a USB device
Advanced Energy Savings: create a weekly hibernation schedule
Remote Access: Access the TN-200 over the internet
Additional Information
More information: http://www.trendnet.com/products/proddetail.asp?prod=210_TN-200&cat=103
High resolution images: http://www.trendnet.com/downloads/list_subcategory.asp?SUBTYPE_ID=1627
Pricing and Availability
TN-200 Availability: This month from to online and retail partners
TN-200 MSRP: $169.99
About TRENDnet
TRENDnet is an award winning global brand, dedicated to providing a complete line of high quality yet affordable networking solutions for small to mid-sized business and home users alike. Founded in 1990, TRENDnet is headquartered in Torrance, California, and maintains branch offices in Europe, Central America, South America and Asia. TRENDnet products are sold in over 125 countries. The TRENDnet brand is consistently recognized for high quality, exceptional performance and unparalleled support. For more information visit www.trendnet.com or call +1 (310) 961-5500.