| | |
| --- | --- |
| Thecus NAS Backup to External HDD Explained | |
Friday, 24 May 2013
Thecus NAS Backup to External HDD Explained
How to keep an extra copy of your precious data outside the NAS
Like any other hardware, your Thecus® NAS or its hard drives are subject to problems such as power failure, hardware failure or physical damage. It is why it's important to always perform some sort of external backup.
March 31st was declared as the World Backup Day. In fact, various studies show that both individuals and businesses are not fully aware of the potential loss of data in case of fire, theft, flood or simply hardware failure. One way to prevent the loss of your most precious data stored on a Thecus® NAS is to keep a copy of them outside of it on a CD, in the cloud, on another Thecus® NAS or, as we will show you how here, on an external hard drive.
Step 1: Plug it in
Firstly you'll need to connect an external HDD to one of the USB ports of your Thecus® NAS. The size of the HDD will of course reflect the amount of data that you wished to backup. You'll also need to format this disk in a way that will benefit you the best. Each file system has their personal data size limits. For example, you'll only be able to stare files smaller then 4GB on an HDD formatted in FAT32, but a formatting in NTFS (Windows) / EXT3 or EXT4 (Linux) will not restrain you in the same way.
So once the external HDD is plugged to your Thecus® NAS, make sure it is detected by it. To do so, open your admin UI and go under Storage/ Disk Information, you will be able to see the attached device. Already, by going in Storage/Share Folders/USBHDD, you'll be able to check its shared content.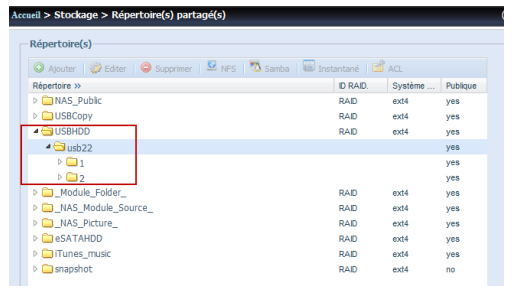 Step 2: Create a task
To create a backup task, always in the Thecus® NAS admin UI, you'll need to open Data Guard which is located in the Backup menu. To perform a backup to and external HDD, please select the Local Backup option.
From the newly opened window, you'll need to select Copy or Scheduled backup then RAID Folder to External Device. Copy will perform a one-time task where Scheduled backup will give you the option to perform a backup task at a future time and repetitively. The following screen will allow you to select which folder from your RAID volume to backup to which device.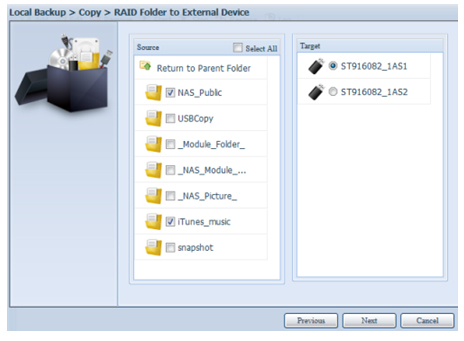 After selecting the files to be backed up, you'll be given the option for the task to be synchronized or incremental. The difference between the two can be explained with this example:
If on your NAS you have the file 1 2 3 4 and on your external HDD only the file 1 2 3, using both methods the file #4 will be added. But if you delete the file 1 and 2 and create file 5 and 6 on the source, the result will be as followed:
- Incremental: 1 2 3 4 5 6
- Synch: 3 4 5 6
In other words, an incremental backup will keep the deleted file from the source on the external HDD but the synchronization will replace the old back up with a new one, eliminating the deleted files.
As you accept the configuration of the task, the event will be listed in the interface of DataGaurd. Its status will let you know if it is processing or if it is finished. Congrats, your files are now backed up on that hard drive. You can confirm by browsing the HDD or by consulting the Log file created from that event.
Step 3: Disaster and restoration.
In the event that your Thecus® NAS is stolen or out of service, you'll be able to copy the data from the external HDD directly to your computer. But if you have another Thecus® NAS, under DataGuard, a task can be created to copy the data back to your NAS. So under the Thecus® NAS admin UI, open the Backup menu, select Data Guard and create a task under Local Backup/Copy/External Device to RAID Folder. Just like creating a copy task, you'll be able to create a restoring task of your data back to your Thecus® NAS.
This tech news is inspired and part of a tutorial created on the French blog Autour de Sam, for the original article (in French), go to: http://sam.web.free.fr/blog/?p=2744
For more information on the N5550, go to: http://www.thecus.com/product.php?PROD_ID=76
For more information on Thecus®, go to: http://www.thecus.com
About Thecus
Thecus® Technology Corp. specializes in IP Storage Server and Network Video Recorder solutions. The company was established in 2004 with the mission to make technology that is as transparent as it is easy-to-use and products that are not only the best on the market, but are accessible to experts and novices alike. Combining a world-class R&D team highly experienced in storage hardware and software development with a keen customer focus, Thecus® stays close to the market to develop high-quality products to fulfill the storage and surveillance needs of today's world.